GLC paints and color grade numbers
nada shaban
 GLC paints and color grade numbers
Plastic paint is one of the water-based paints, and it is the newest type of paint ever that has developed greatly and now competes with all other types of paints, such as lacquer paints.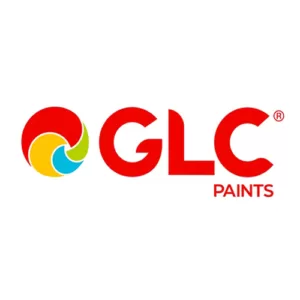 GLC paints and color grade numbers
Plastic paint is one of the water-based paints, and it is the newest type of paint ever that has developed greatly and now competes with all other types of paints, such as lacquer paints.
The reasons for the superiority of plastic paints over other types of paints are due to several reasons, the most important of which are:
Paint speed and drying.
Flexibility in color composition enables you to obtain colors in different shades that cannot be obtained from any other type of paint.
Diversity in the degree of gloss. Glossy, semi-gloss and washable types have been developed.
Ease of manufacture and application, and low cost as raw materials or manufacturing.
Easy to clean and the possibility of painting a new face after a while.
Types of plastic paint:
Matt plastic paints

Glossy plastic paints

 Semi-gloss plastic paints

 GLC paints and color grade numbers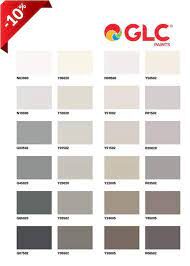 Contact us to find exactly what you are looking for, click here
General specifications:
It is a high-quality matte interior and exterior plastic paint, made from the finest types of acrylic copolymer mixture and many other materials that give it unique properties.
Paints are considered one of the important finishing stages in any building or construction process. The types of paints, their uses, and their installation methods differ according to the type of surface on which the paint or coating is installed, in addition to the aesthetic aspect that the paint gives to the walls of the building, whether it is a house or another facility. Of course, the importance increases in homes and offices, where tastes vary between individuals, and paints come to meet these tastes, despite their differences.
Paint (paint) is defined as a chemical substance that can be spread on a solid surface (iron, wood, concrete, bricks) that dries and hardens to give a thin thickness of a specific color with good adhesion that covers the painted surface completely.
Paints are used to protect surfaces from natural effects and to control color and shape according to tastes
Steps to prepare surfaces for painting:
Before using paint on surfaces, we must sand the surface, then knead it, then sand it again to smooth and clean the surface.

At the same time, we clog the pores and clean it, then leave it until it dries

Then we install the paint, starting with the preparatory face layer, then another layer, which is the lining face, then we do a final layer, which is the final face.

 GLC paints and color grade numbers
The paints have the following features:
Its resistance to atmospheric factors

Washable

Excellent per capita rate

Alkali resistant

Not yellowable

High covering power

shining whiteness

Excellent resistance to washing and abrasion

Ease of application

Color stability for a long time

top quality

The beauty of the paint

Good distribution of paint

Execution speed

Ease of use and no need for high expertise

A face paint with an industrial base, resistant to alkali on organic solvents

Stable against salts

The paint is porous, allowing the walls to breathe

Therefore, it does not cause moisture to the walls under the paint, which prevents its adhesion

Give a smooth, semi-glossy layer to shade

It gives a stable layer whose buttons do not fly off due to friction like others
Paint method:
Plastic can be painted on walls, by giving the surface two sides of plastic (50% ready-made plastic + 50% water), adding the desired color, and stirring well.

If there is a wall or ceiling finished with plaster, and it is intended to be painted with plastic, the defects are treated using a mixture of gypsum, sponge, and plastic with water.

and sand these places well.

Then paint the surface on one or two sides with plastic diluted with water, adding the desired color and stirring it well using a brush and roller if you want to obtain a grainy surface.

In the case of repainting with plastic, the surface is cleaned, the sand is picked up, sanded well, and the surface is painted with a plastic coating (50% ready-made plastic + 50% water) with the addition of the desired color.
Features :
Silky finish

Washable

Excellent hiding power

Excellent brightness
 GLC paints and color grade numbers
If you have any inquiry, please contact us freely and we will be happy to serve you.
Jezli website for purchasing electrical appliances
When we say Jazli website, we are talking about one of the most famous Arab websites, which was able in a very short period of time to achieve a very high demand for purchases from it by people from different parts and sectors of the Arab world.
On the Jazli site, you will find Joint Lock and all the products that you may need in your home, starting with those for kitchens or bathrooms, but even those for gardens. You will find them in this wonderful site
So, if you were lost before and you don't know where to go in order to buy your products on the Internet, now you have the perfect solution, and you only have to go to the Jazli website and start choosing the products you want.
What are the features of Jazli  ?
Since we are talking about a site that is preferred by many people around the world, there is no doubt that it is a site full of various features and characteristics, and for this we have decided to dedicate our next paragraph in order to indicate the most prominent features of the Jazli site.
Among the most prominent features of the site, we find that there is proportional prices. On the Jazli website, you do not have to worry about the imaginary prices of products, as is the case with most sites that display their products on the Internet.
The price of product delivery is very reasonable and not expensive, just as the site accepts delivery to various countries, without forgetting that it accepts free shipping on some products.
One of the advantages of the site is also the high quality of its products, as it is impossible to find a poor quality product. Rather, the Jezli website deals with major companies, Philips, for example, and other famous brands, so you must remove from your mind the idea of ​​the poor quality of one of the products. Another advantage of the site is that it does not specialize in one type of product, but rather you will find various types of products on it, for example, electrical appliances, hand tools, mechanical devices, paints, packages for establishing apartments, and many other types.
Jeezly website also accepts what is known as the shopping cart, which makes it easy for you to filter the products you want to buy and put them in one package in order to be able to pay with the click of a single button.
Accepts multiple payment methods.

We are pleased that you visit our social media pages, where we publish exclusive offers on our website.
Our Facebook page  is here .
Our Twitter account  is here .