Non-renewable energy sources 4 main resources
nada shaban
Non-renewable energy sources 4 main resources
Non-renewable energy is a term that refers to traditional energy sources such as coal, oil and natural gas that are limited in supply. These resources are finite and cannot be replaced once they are used. As the world's population continues to grow, the demand for these resources also increases. This means that if we continue to rely on non-renewable energy sources, we will eventually run out of them. This is why it is important to understand non-renewable energy sources and why we should care about preserving them or contribute to the development of renewable energy sources.
2 types of main non-renewable energy sources
Non-renewable energy sources are limited conventional energy types. These resources are formed over geological time periods, are depleted through massive use and cannot be replenished once depleted. Examples of non-renewable energy sources include fossil fuels such as coal, oil and natural gas, and nuclear energy derived from uranium. Below we will provide an overview of fossil fuels and nuclear energy, which are two primary types of non-renewable energy in use today.
Fossil fuels
Fossil fuels are an important part of the world's energy mix, providing the majority of the energy used in transportation, heating, and electricity generation. However, fossil fuels are finite resources that can eventually run out due to continued consumption. It is likely to continue to play an important role in the global energy mix in the coming years, extracted from the earth for use as an energy source. It includes 3 natural resources:
1. Coal : Coal is used primarily as an energy source to generate electricity, but it is also used in industrial processes, such as steel production, and for heating. Coal mining usually involves either surface mining or underground mining, depending on the location and quality of the coal deposits. There are four main types of coal: anthracite, bituminous, semi-bituminous, and lignite, each with different physical and chemical properties. Because of the emissions from burning it, coal extraction and transportation can lead to environmental impacts such as soil and water pollution.
2.  Crude oil : Crude oil is a complex mixture of hydrocarbons and other chemical compounds, and its properties and characteristics vary depending on its origin and composition. Crude oil is mainly used as an energy source for transportation, as well as for the production of various types such as gasoline, diesel fuel, and jet fuel. However, the use of crude oil has negative environmental impacts, including water and air pollution, habitat destruction, and the emission of greenhouse gases during extraction, transportation, and refining processes.
3.  Natural gas : Natural gas is a mixture of gases, and is found underground in porous rock formations known as gas reservoirs. Natural gas is used primarily as a fuel for heating and electricity generation, but it is also used as a feedstock for the production of chemicals and fertilizers. However, the production and transportation of natural gas still has environmental impacts, including the release of methane. It is very important to carefully consider these factors and find sustainable, renewable and environmentally friendly alternatives.
Nuclear Energy
Nuclear energy is a non-renewable energy source that is produced through the process of nuclear fission or heat generated from nuclear reactions to produce steam that drives turbines and generates electricity. Nuclear energy has many benefits as an energy source, including its reliability and the fact that it generates electricity without releasing greenhouse gas emissions.
Other non-renewable resources
Another example of non-renewable energy sources are oil sands  , also known as oil sands, which are a mixture of clay, sand, water, and bitumen (a heavy, thick form of oil). Bitumen is extracted through mining or drilling and then processed to produce crude oil.
Likewise, shale gas is   another non-renewable energy source that is extracted through a process called hydraulic fracturing, also known as fracking. Shale gas is natural gas trapped in rocks deep underground and released through the fracking process.
Disadvantages of non-renewable energy
Limited supplies, leading to potential depletion and higher costs in the future.

Negative environmental impacts, such as greenhouse gas emissions and air pollution.

Environmental damage, such as oil spills in the seas.

Geopolitical tensions between global countries.

Health problems for communities adjacent to power plants.
Renewable resources: an overview
Renewable resources are natural resources that are constantly renewed, making them a more sustainable option than non-renewable sources. In addition to providing clean energy, the use of alternative renewable resources can also bring economic benefits, such as creating new jobs in the renewable energy industry. It offers a promising solution to meet our energy needs in a sustainable and environmentally friendly way. Examples of renewable resources include: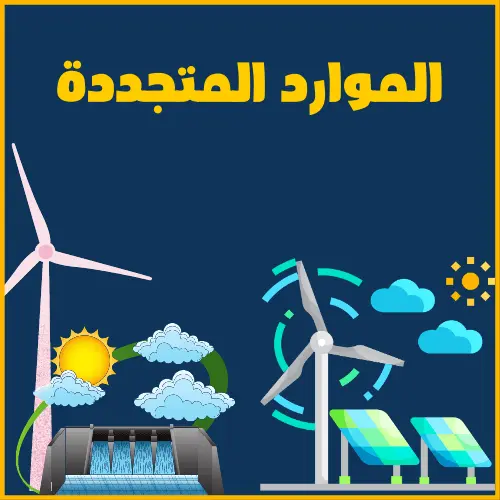 Solar energy

: Sunlight is the primary source of solar energy due to its heat and light.

Wind energy

: Turbines are used to capture the movement of the wind and convert it into electrical energy.

Hydropower

: The pressure of water collected in dams, waves, and tides is used to generate electricity.

Geothermal energy

: It is obtained by exploiting natural hot spring water resources.

Biomass

: Bioenergy is produced from biomass, which is organic materials such as wood or manure.
These resources can be harnessed to produce electricity, heat, or fuel without releasing harmful greenhouse gas emissions. Unlike non-renewable resources, the importance of renewable energy is increasing as the Arab world seeks to transition to a more sustainable, low-carbon energy system. Renewable resources provide a way to meet our energy needs without depleting finite resources or causing harm to the environment.
Abstract : Non-renewable energy sources are the most widely used form of energy in the world today and represent more than  80%  of total global energy consumption. The consumption of these energy sources can lead to negative environmental impacts, such as greenhouse gas emissions. In contrast, renewable energy sources, such as sunlight, wind, water and forests, can be used repeatedly without depleting their reserves and do not cause any pollution. As the world shifts towards more sustainable energy sources, it is very important to study and understand the difference between renewable and non-renewable energy, the different types of energy available and their impacts on the environment.
If you have any inquiry, please contact us freely and we will be happy to serve you.
Jezli website for purchasing electrical appliances
When we say Jeezly website, we are talking about one of the most famous Arab websites that was able, in a very short period of time, to achieve a very large demand for purchases from it by people from various parts and sectors of the Arab world.
On the Jeezly website, you will find a joint look and all the products that you may need in your home, starting with those for kitchens or bathrooms, but even those for gardens, you will find them on this wonderful site.
So, if you were lost before and did not know where to go to buy your products on the Internet, now you have the perfect solution, and all you have to do is go to the Jezli website and start choosing the products you want.
What are the features of Jeezly  ?
Since we are talking about a site that is preferred by many people around the world, there is no doubt that it is a site full of various features and characteristics. Therefore, we have decided to devote our next paragraph to pointing out the most prominent features of the Jezli site.
One of the most prominent features of the site is the proportionality of prices. On the Jeezly website, you do not have to worry about the imaginary prices of the products, as is the case with most sites that display their products on the Internet.
The price of delivering products is very reasonable and not expensive, and the site accepts delivery to various countries, without forgetting that it accepts free shipping on some products.
One of the features of the site is also the high quality of its products, as it is impossible to find a poor quality product. Rather, the Jezli website deals with the major companies, Philips, for example, and other famous brands, so you must remove from your mind the idea of ​​the poor quality of one of the products. Another advantage of the site is that it does not specialize in one type of product, but rather you will find various types of products on it, for example, electrical appliances, hand tools, mechanical devices, paints, packages for establishing apartments, and many other types.
Jeezly website also accepts what is known as the shopping cart, which makes it easy for you to filter the products you want to buy and put them in one package in order to be able to pay with the click of a single button.
Accepts multiple payment methods.

We are pleased that you visit our social media pages, where we publish exclusive offers on our website.
Our Facebook page  is here .
Our Twitter account  is here .