12 tips to rationalize electricity consumption
nada shaban
 12 tips to rationalize electricity consumption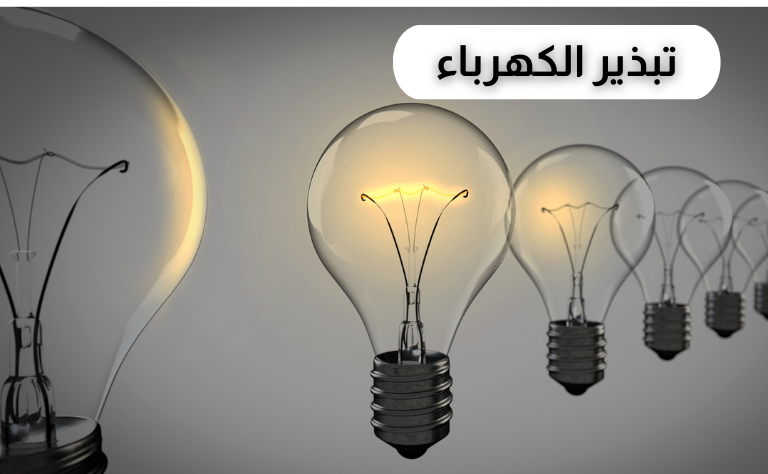 Wasting electricity has become a major concern in our modern society. As the demand for electricity continues to increase, it is essential to be aware of the harmful consequences of wasting electrical energy. Revealing statistics remind us of the scale of the problem: according to a recent study, more than 20% of the world's electricity is wasted   every year. This represents a significant loss in terms of energy resources, environmental impact and economic costs. This article provides tips to stop wasting electricity and its importance in our lives, take measures to combat waste and waste of energy and adopt more responsible behaviors when it comes to electricity consumption.
Manifestations of excessive electricity consumption
Unnecessary electricity consumption manifests itself in different ways and behaviors in our daily lives. The following are some common examples of manifestations and practices of wastefulness and extravagance:
– Leaving devices in standby mode : Many people tend to leave electronics and devices in standby mode instead of turning them off completely. This includes televisions, computers, video games, and cell phone chargers. These devices continue to consume electricity even when not in use, resulting in wasted electricity.
– Turn on the lights : Leaving lights on in empty rooms, even for short periods, may result in excessive energy consumption.
– Heating or cooling : Maintaining extreme temperatures indoors may increase electricity consumption. Heating or cooling at excessive levels when not needed contributes to wasting electrical energy. It is therefore necessary to take measures to reduce electricity waste and promote a more responsible and sustainable use of energy.
What are the most energy consuming appliances?
The most energy consuming appliances in the home can vary depending on several factors such as family size, consumption habits, and the energy efficiency of the appliances. However,  here are some of the most common power consuming devices:
Air Conditioners and Electric Heaters

: Air conditioners and electric heaters are often the largest consumers of electricity, especially when used for long periods during the day and night.

Refrigerators and Freezers

: These appliances are constantly working to keep food cold, making them major energy consumers.

Clothes Dryers

: Clothes dryers take a lot of energy to dry clothes, especially if you use them frequently.

Water Heaters

: Electric water heaters can be power-hungry because they constantly heat water to make it available at all times.

Pool Pumps

: If you have a pool, pool pumps can also use a lot of electricity to filter the water.
Why do people waste electricity?
The reasons for wasting electricity are varied and often influenced by habits, behaviors and environmental factors. First, a lack of awareness and unconscious behaviors can lead to electricity consumption, as some people are not fully aware of the impact their consumption has on the environment and their budget. In addition to ineffective behaviors such as leaving devices on standby, or leaving lights on in empty rooms.
Reasons for wasting electricity
Here are some of the main reasons for wasting electricity:
Comfort and luxury

: The desire for comfort may lead some people to prefer excessive use of electricity.

This could mean running the air conditioner or heaters for long periods, using multiple electrical appliances at the same time, or leaving appliances on standby to avoid turning them back on.
Old appliances

: Using old appliances and electrical equipment, which may be less efficient, may lead to increased electricity consumption.

Replacing this equipment with smart devices such as a thermal sensor can be expensive, discouraging the adoption of energy-efficient technologies.
Consumption habits

: It may be difficult to change the electricity and energy consumption habits of some electricity consumers, even if this leads to a higher electricity bill.

For example, leaving lights on in empty rooms, or keeping appliances on standby can become routine and unimportant behavior for some wasteful and irresponsible people.
Consequences of wasting electricity
A- Environmental impact:
Greenhouse gas emissions : Wasting electricity increases demand for energy, which is produced primarily from non-renewable sources such as coal, natural gas, and oil. Generating electricity from these fossil fuels releases large amounts of greenhouse gases, including carbon dioxide  (CO2)  , methane  (CH4),  and nitrous oxide  (N2O) . These gases contribute to global warming and climate change, and have devastating effects on the environment, such as melting glaciers, rising sea levels and increasing extreme weather events.
Degradation of natural resources : Excessive production of electricity leads to increased use of non-renewable natural resources. Extracting fossil fuels for energy generation leads to environmental degradation, deforestation, soil and water pollution, as well as the destruction of natural habitats.
B- Economic impact:
High energy costs : Wasting electricity leads to increased demand for energy, which necessitates increased electricity production. This can lead to higher electricity generation costs, as some energy sources are more expensive than others. In addition, non-renewable energy resources are vulnerable to depletion, which can lead to increased supply costs as these resources become scarcer.
Impact on electricity bills : Wasted electricity has a direct impact on consumers' electricity bills. By consuming more electricity than necessary, households and businesses pay more for their energy consumption. This can create a financial burden on consumers, especially those with low incomes who may struggle to cover high energy costs.
How to conserve electricity?
To evaluate and reduce your electricity consumption, you must first analyze your current consumption by referring to billing data for several months. Identifying energy-consuming appliances and peak times of use makes it possible to target the source of waste. In addition to adopting rationalization practices such as turning off devices in standby mode, replacing light bulbs with  LEDs , and improving insulation, you can contribute to improving the energy sector and help conserve electricity.
Speaking of bulbs, traditional (incandescent) bulbs are less energy efficient than LEDs. Incandescent lamps produce light by heating a metal filament, which makes them inefficient because a large amount of energy is lost as heat. In contrast, LEDs ( light emitting diode ) emit light when current passes through a semiconductor chip, making them more energy efficient and long-lasting. By replacing traditional bulbs with LEDs, it is possible to significantly reduce electricity consumption and save money by lowering your electricity bill.
Rationalization of electricity consumption
By adopting  these 12  ways  to conserve electricity  and these simple daily practices, you can not only reduce your electricity consumption, but you can also help conserve energy resources and protect the environment.
Turn off the lights when you leave the room.

Use programmable thermostats and controls to adjust heating and cooling to your needs.

Turn off computers and monitors completely when not in use.

Set the refrigerator to the correct temperature to avoid excessive energy consumption.

Avoid opening the refrigerator door frequently to reduce cold loss.

Turn off electronic equipment such as televisions, game consoles and computers at night.

Reduce shower time to limit the use of hot water, which is generally produced using electricity.

Properly insulate your home to reduce heat loss in the winter and cold in the summer.

Certification of energy-efficient appliances and electronics with 

ENERGY STAR

certification .

Give priority to natural light and turn off artificial lights during the day.

Educating your family members about the importance of spreading the culture of conserving electricity and water and adopting responsible habits together.
Common mistakes about reducing electricity waste
There are many common myths about reducing electricity waste. These misconceptions can sometimes deter people from adopting energy efficiency practices. Here are some of these errors :
"Turning appliances off and on again uses more electricity than leaving them on all the time."
This belief is wrong. In fact, turning off electronic devices when not in use saves energy. Sleeping devices continue to consume electricity unnecessarily. So it's better to turn it off completely.
"Setting the heater to a higher temperature will warm the room faster."
This is also wrong. Heating operates with the same energy regardless of the set temperature. Setting the thermostat to a higher temperature will not cause it to heat up faster, but it will result in excessive energy consumption.
"The energy savings achieved by adopting energy efficiency practices are minimal."
On the contrary, small actions can have a big impact in reducing electricity waste. Simple gestures like using LED lights, turning off backup appliances, and optimizing your heating and air conditioning settings can lead to significant energy savings in the long run.
– Frequently asked questions :
Why is wasted electricity a concern?

Wasting electricity has a negative impact on the environment, contributes to global warming and leads to high economic costs.

How can I reduce energy waste at home?

You can reduce energy waste at home by using energy-efficient smart appliances, turning off unnecessary lights, and adjusting the temperature of your lights and thermostats.
How do smart meters save electricity?
By providing real-time data that helps to better understand and calculate electricity consumption. This encourages the adoption of more energy efficient practices.
If you have any inquiry, please contact us freely and we will be happy to serve you.
Jezli website for purchasing electrical appliances
When we say Jeezly website, we are talking about one of the most famous Arab websites that was able, in a very short period of time, to achieve a very large demand for purchases from it by people from various parts and sectors of the Arab world.
On the Jeezly website, you will find a joint look and all the products that you may need in your home, starting with those for kitchens or bathrooms, but even those for gardens, you will find them on this wonderful site.
So, if you were lost before and did not know where to go to buy your products on the Internet, now you have the perfect solution, and all you have to do is go to the Jezli website and start choosing the products you want.
What are the features of Jeezly  ?
Since we are talking about a site that is preferred by many people around the world, there is no doubt that it is a site full of various features and characteristics. Therefore, we have decided to devote our next paragraph to pointing out the most prominent features of the Jezli site.
One of the most prominent features of the site is the proportionality of prices. On the Jeezly website, you do not have to worry about the imaginary prices of the products, as is the case with most sites that display their products on the Internet.
The price of delivering products is very reasonable and not expensive, and the site accepts delivery to various countries, without forgetting that it accepts free shipping on some products.
One of the advantages of the site is also the high quality of its products, as it is impossible to find a poor quality product. Rather, the Jezli website deals with major companies, Philips, for example, and other famous brands, so you must remove from your mind the idea of ​​the poor quality of one of the products. Another advantage of the site is that it does not specialize in one type of product, but rather you will find various types of products on it, for example, electrical appliances, hand tools, mechanical devices, paints, packages for establishing apartments, and many other types.
Jeezly website also accepts what is known as the shopping cart, which makes it easy for you to filter the products you want to buy and put them in one package in order to be able to pay with the click of a single button.
Accepts multiple payment methods.

We are pleased that you visit our social media pages, where we publish exclusive offers on our website.
Our Facebook page  is here .
Our Twitter account  is here .