Battery configuration
nada shaban
Battery configuration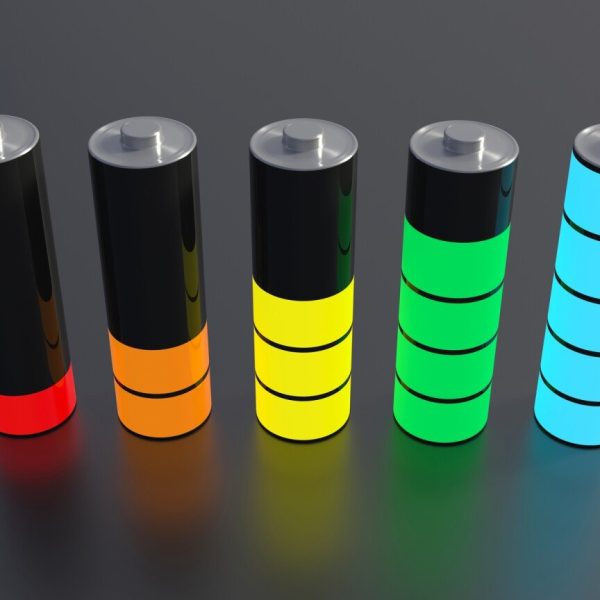 A battery system manages chemical reactions to store electricity for later use, whether it's electricity from a generator or the public grid. Technically, electricity itself cannot be physically stored, but the relative energy equivalent is stored as potential energy through a chemical reaction, and can be converted into electricity later. Chemical batteries work by charging a solution that retains a charge long enough to be discharged again and distributed later.
System architecture
Batteries are limited storage media and work in relatively simple ways.
Batteries can only receive and provide direct current, while most large electrical appliances and power supplies use alternating current. To accommodate this, batteries need external devices to convert currents according to use and need.
To receive alternating current, the battery will need an inverter or a specialized battery charger.

To deliver AC power, the battery will need an external inverter.
These two devices are often combined into an inverter charger that can be used as an intermediary between the battery and the closed circuit.
Because each battery has a limited capacity, battery power supplies require special equipment to monitor and control the flow of electricity entering the battery, called a charge controller. The charge controller will constantly monitor the battery's state of charge – recognizing how "full" it is – and should automatically terminate charging once the battery is full. Batteries are very active and can be very dangerous if overcharged! An overcharged battery can spark, start fires and even explode, and possibly spew dangerous chemicals while exposed. You should not attempt to obtain a backup battery without a suitable charge controller.
As with a generator installation, a backup battery must also have all available protection installed, including breakers, fuses and a grounding cable.
Therefore, a battery system typically includes:
One or more batteries.

Inverter charger.

Charge controller.

Cable and protective devices such as fuses and grounding.
Batteries
A battery is a storage device capable of storing chemical energy and converting it into electrical energy through an electrochemical reaction. There are many different types of chemistry used, such as nickel-cadmium batteries used to power small portable devices or lithium-ion (Li-on) batteries used in larger portable devices. However, the most proven and longest-used type of chemistry is the lead-acid battery.
Species
Batteries are made in many materials and shapes to suit different purposes. This guide will focus on the most common batteries used as backups for power generation sources. The two main types can be summarized as follows:
Flooded batteries.

Valve regulated lead acid batteries.
Flooded batteries:
Flooded cell batteries are the most common conventional batteries used in internal combustion vehicles. Flooded cell batteries are referred to in several ways:
Flooded battery.

Wet cell battery.

Spillable lead acid battery.

Lockable lead acid battery.
These batteries contain a liquid electrolyte mixture that can move freely in the cell chamber. Users can access individual cells and add distilled water (or acid) when the battery runs dry. The main characteristic of this type of battery is its low cost, which makes it available almost everywhere around the world, and is widely used in low-income or developing countries. Flooded batteries are very easy to handle and can be charged using a simple, non-regulated charger. However, these batteries require regular inspection and maintenance, and extreme weather can significantly impact battery life due to the ability of the electrolyte solution inside the battery to evaporate or freeze.
These batteries are usually made with 2 terminals and 6 caps allowing all 2V compartments or cells to be used, giving a total voltage of 12V. For this type of battery, the typical absorption voltage range is 14.4 to 14.9 volts and the typical flood voltage range is 13.1 to 13.4 volts.
Car or truck batteries are not suitable as a permanent storage system . Vehicle batteries are designed to provide high current over short periods, especially for starting a combustion engine. There are lead-acid batteries recently designed specifically for storage applications.
Valve regulated lead acid ( VRLA ) batteries:
A valve-regulated lead-acid (VRLA) battery is a term that can refer to a number of different models and designs, but they all share the same characteristic – they are sealed. Valve regulated lead acid (VRLA) batteries are sometimes referred to as sealed or non-spillable lead acid batteries. The enclosed nature of batteries makes transporting them easier and less risky, and they can even be transported via aircraft under certain circumstances. However, being airtight reduces their lifespan as they cannot be refilled – their average lifespan is 5 years at 20°C.
A valve regulated lead acid (VRLA) battery is usually expensive and requires a fully regulated charger, making it less common worldwide. These batteries may still use lead-acid as the chemical solution, but may use serrated pins instead of chambers and terminals.
The name battery comes from the valve regulating mechanism that allows the safe escape of hydrogen and oxygen gases during charging. There are also more advanced designs, including:
Absorbent glass fiber (

AGM

)  batteries

The structure of absorbent glass fiber (AGM) batteries allows the electrolyte solution to be suspended in close proximity to the active material of the plate.

This enhances both discharging and recharging efficiency.

Because there is no liquid inside, these batteries outperform flooded batteries in applications where maintenance is difficult, however they are sensitive to over- or under-charging which affects their lifespan and performance. Absorbent glass fiber (AGM) batteries operate reliably when used to discharge no more than 50% of battery capacity.

Absorbent glass fiber (AGM) batteries are usually the battery type of choice in off-grid systems.

Gel cell batteries

Gel cell batteries contain hydroacid in gel form.

The electrolyte in a gel cell battery contains a silica additive that causes it to gel or solidify.

The recharging voltage level of this type of cell is lower than other types of lead-acid batteries, and gel cells are perhaps the most sensitive cells in terms of negative reactions to over-voltage charging.

Gel cell batteries are best used for very deep circuit applications and may last a little longer in hot weather. Unfortunately, a total deep discharge will irreversibly destroy the battery. If the incorrect battery charger is used on a gel cell battery, it is certain to have poor performance and early failure.

Note: It is very common for people to use the term gel cell when referring to maintenance-free sealed batteries, just as they use a brand name when referring to the entire product category. Be very careful when choosing a charger – often times, when someone refers to a gel cell, they really mean a valve-regulated lead acid (VRLA) or maintenance-free sealed absorbent glass fiber (AGM) battery. Gel cell batteries are not as common as absorbent glass fiber (AGM) batteries, and will be difficult to obtain in humanitarian contexts.
Battery Type

Absorption voltage range

Immersion voltage range

Flooded batteries

14.4 to 14.9 volts

13.1 to 13.4 volts.

Valve regulated lead acid (

VRLA

) batteries

14.2 to 14.5 volts

13.2 to 13.5 volts.

Absorbent glass fiber (

AGM

)  batteries

14.4 to 15.0 volts

13.2 to 13.8 volts.

Gel cell batteries

14.0 to 14.2 volts

13.1 to 13.3 volts.
Capacity
Capacity is defined as the total amount of energy that a battery can store and reproduce in the form of electricity. Battery capacity is usually described in multiples of watt-hours (Wh) and on the order of – 1 watt to 1 kilowatt (1000 watt-hours). A watt-hour is defined as the electrical energy needed to supply one watt of electricity for one continuous hour. For example, a standard 60-watt incandescent bulb will require 60 watt-hours of stored energy to operate for one hour. It's easy to see why correctly estimating consumption needs is important to design battery backup systems, especially for security-related or mission-critical items.
Perhaps the most important specification of a battery is its rated capacity in ampere-hours (Ah). Watt-hours are determined when the ampere-hour (Ah) is combined with the battery voltage—often 12 volts.
A T A F ( W A T / Q ) = A L C E D ( F F T ) _ _ _ _ _ _ _ _ _ _ _ _ _ _ _ _ _ _        _ ) × Capacity (A/h)
Battery capacity depends on:
Discharge duration

: The manufacturer usually specifies the capacity at 20 hours, and is indicated as C20.

For a battery with a capacity of C20, the same battery will be able to provide more power in 20 hours than in 10 hours.

Temperature

: The outside temperature can affect whether the capacity increases or decreases.

The rating is measured as a reference at 20°C.
Also keep in mind that cycling the battery to full capacity will likely damage it if done repeatedly. To increase the life of your battery, there should always be some power left in it before recharging. For this reason, only 50% of capacity is usually used. As a result, the power a battery can actually provide is best measured by looking at half of its full capacity.
 A T A Q = 0 . _ 5 x A L C E D x A L H Power       = 0.5 x Voltage x Capacitance
Example:

100 amp-hour battery contains 1200 watt-hours:

100 x 12 = 1200 watt – hours 100 x 12 = 1200 watt –      hours

To increase its lifespan, only 600 watts per hour can be used. How long will a 40 watt light bulb last continuously?

600 Wh / 40 Wh = 15 Wh 600 Wh / 40 Wh = 15 h _ _ _ _ _ _ _        _

A 40-watt light bulb can shine for  15 hours  before the battery needs to be recharged.
As a general rule, as the battery size and capacity increase, the efficiency increases while the price per watt-hour decreases. It is recommended to use a battery type with the highest capacity available, and then work down multiples of that battery type to reach your total energy storage needs. Constantly adding smaller, lower capacity batteries will lead to higher costs and more problems later.
Float charging lifetime
Float charge life is the expected service life of a battery if it was continuously charged and never discharged. When a battery is installed in an electrical system that constantly receives a charge, it is called "float charging." In the event of a power outage and float charge batteries are in operation, the "float charge life" refers to how long these batteries can last. Float charging life decreases with temperature and the manufacturer's float charging life is usually rated at 20°C. As a general rule, the life of a float charge will decrease by approximately half for every 10°C increase in average temperature.
Example:

Battery with a float charge life of 10 years at 20°C.

How long will it take to charge if the average temperature is 30°C?

10/2 = 5 x n and a v 10/2 =    5 years

It will take  5 years  if the average battery room temperature is 30°C and only 2.5 years  if the average battery room temperature reaches 40°C.
life cycle
In addition to float charge life, "cycle life" represents the number of cycles a battery can withstand during its service life. A battery cycle is defined as a battery being fully charged and then fully discharged, creating one complete "cycle." It is common to find this information in the technical specifications, and it is recommended to purchase batteries with a cycle life of more than 400 cycles.
The cycle life depends on the depth of discharge. A 50% depth of discharge is a good compromise between excessive investment and rapid deterioration.
Other specifications
Other characteristics of the battery are:
Self-discharge rate:

 Self-discharge rate is defined as how quickly a battery will dissipate electricity if it is fully stored but not in use.

It is only useful if the batteries are intended for long-term storage.

The self-discharge rate of lead-acid battery is generally less than 5% per month.

Freezing point:

 The battery will be destroyed if its electrolyte solution freezes.

The freezing temperature depends on its structure, composition and charging rate, and a discharged battery freezes more easily.

However, the freezing point of a battery is almost always lower than the freezing point of water.
Number of batteries required
The type of battery required for installation will depend on power needs, budget, the country in which operations are conducted, and the conditions under which the system must operate.
Once you have selected the battery model, you must calculate the number of batteries required. This can be done using the following formula, always rounding the number up.
A D D A L B T A R E = ( A S T E L A K A T A Q E ) ( A Q S Z A M Q L D O R E × C E D A L B T E R _ _ Y E X E E L B I A _ _              R ) Number of battery = (Power consumption) (Maximum cycle depth x Battery voltage x Battery capacity )
Example:

System analysis indicates a need for 12,880 watt-hours.

Batteries available are 220Ah/12V and require 50% maximum depth of discharge.

How many batteries are required?

12880 / (50% × 12 × 220) = 9.7612880 / (50% × 12 × 220) = 9.76

10 batteries required  .
Pay attention that all batteries used in the battery system must be exactly the same:
Same capacity:

 If 500Ah capacity is needed, 2 x 200Ah + 1 x 100Ah cannot be used.

The system will require 5 x 100Ah or (preferably) 3 x 200Ah.

Brand and Model:

 Batteries should be of the same brand and model as much as possible.

Age:

 All batteries should have the same 'date' as much as possible.

It is highly recommended not to mix old and new batteries, even if they are the same model.
Inverter charger
Although it is important to choose batteries with the correct storage capacity and design, inverter chargers can increase the efficiency of the system. Equally, an inverter charger can damage the system if it is installed incorrectly, broken or poorly designed. The purpose of an inverter charger is to convert current from AC to DC to charge the batteries, and from DC to AC to discharge the batteries. Inverter chargers can do much more than that – they can play a "key role" in electrical installations, coordinating power flows between the main source (generator or grid), batteries and the end user. The right inverter charger can provide much better quality of service than any other backup systems, including:
The power available from the inverter may be up to 4 times the maximum power of the main power source.

Increase the life span of the generator.

Regulated voltage and frequency.

Uninterruptible power supply.
Inverter chargers should be purchased along with the following:
Battery controllers.

Temperature sensors.
Battery cable connections
The cables that connect the batteries together play an important role in the performance of the battery system. Choosing the correct size (diameter) and length of cable is important for the efficiency of the entire system. Cables that are too small or unnecessarily long will result in power loss and increased resistance. When connecting batteries, the cables between each battery should be of equal length to ensure the same amount of cable resistance, allowing all batteries in the system to work equally well together.
You should also pay special attention to the location of the main system cables connected to the battery pack. Often, the system cables supplying the loads are connected to the first or "easiest" battery to access, resulting in poor performance and reduced service life. Main system cables that distribute direct current (loads) must be connected across the entire battery pack. This ensures that the battery pack is fully charged and discharged evenly, achieving optimal performance. The main system cables and the cables connecting the batteries together must be of sufficient size (diameter) to handle the total system current. If there is a large battery charger or inverter, it is important to ensure that the cables are capable of carrying the potentially large currents generated or consumed by the connected equipment, as well as all other loads.
Battery system installation
Battery room
The battery room has the same purpose as the generator room:
Isolate the battery system to reduce the risk of accidents – such as acid leakage or harmful gas emissions – and prevent unauthorized access.

Ensure good operating conditions: The battery room must protect electronic devices from water and dust and be well ventilated.
Batteries used to support and distribute power need a specific place to be located, and must be well planned. It is convenient for the battery room to be close to the main power supply or distribution panel, but batteries should not be installed in the generator room itself. High or fluctuating temperatures greatly affect the service life and performance of batteries, and it is recommended to have a separate, well-ventilated battery room with a temperature as close as possible to 20°C. A dry, well-ventilated warehouse or underground room is an ideal location, provided the underground storage location is not subject to flooding or collapse.
Under no circumstances should battery storage locations be located in living or business spaces. A fully charged battery is high energy and can spark, emit fumes, burn or even explode. A faulty charger or an overcharged battery may show signs of trouble, including inflation and fumes. However, an overcharged battery may also show no signs and display no warnings. A ruptured battery can propel shrapnel, spewing highly toxic chemicals, while the fumes can be extremely harmful or even fatal if inhaled. If the battery shows any signs of deformation, disturbance or overheating, the entire system should be turned off and the battery should be disconnected when safe to do so. Do not attempt to reuse damaged batteries – they must be disposed of safely and in accordance with local laws and regulations.
Choose installation size
To determine the size of the battery system, you must determine the following:
The maximum power the inverter should be able to deliver to the installation.

The amount of energy that must be stored in the battery to cover your needs.

In some cases, the power that the charger can provide to the batteries.
To manually calculate the maximum installation power:
Include a list of all electrical appliances powered by the fixture.

Find the maximum power of each electrical appliance.

For devices with an electric motor, the maximum power is about three times the nominal power.

For example, a 300-watt water pump will need about 1 kilowatt to start.

Bring all the power together.
To manually calculate your installation's energy consumption:
List all electrical appliances powered by the installation and their average nominal power.

Determine how long each device should be in use.

The assumed power required for each device can be calculated by: average power x duration.

Add all the energy requirements together.
Consider the hours during which the battery system is scheduled to deliver electricity and plan accordingly. The battery configuration will not be the same if the system will only provide power during the night, or will be used as a full day 24 hour backup system. If possible, plan to run a generator during peak power consumption hours, reducing the number of batteries required and reducing the overall cost of the system.
The power of your battery charger will determine how long it will take to recharge. A high-power charger that can charge batteries quickly is useful if the main power source is expensive – a large generator with a high consumption – or if electricity from the main power source is only available for a short period – the public grid is only available for a few hours a day.
To be able to charge batteries for a specific period of time, the formula used is:
A L Q D R E = A S T E L A K T A E Q / M D A L SH H N Capacity =     Power Consumption / Charging Duration
Example:

The rated power of the fixture is 12880Wh, and it needs to be fully charged in 6 hours.

What wattage should the charger be?

12,880 / 6 = 2150 watts 12,880      / 6 = 2150 watts

The charging capacity must not be less than  2150 watts .
Charger power is often rated in amperage (amps) rather than power (watts). To calculate the charging current from the charging power, simply divide the charging power by the charger voltage (usually 12, 24, or 48 volts).
If using a 12 volt charger, the charging current must be: 2,150/12 = 180 amps.

If using a 48-volt charger, the charging current must be: 2,150 / 48 = 45 amps.
Additional considerations:
The minimum battery charging time is 4 hours.

Rapid charging may damage batteries, and some batteries may have limitations longer than 4 hours.

Even with a powerful battery charger, charging may take longer due to the limited power available from the main power supply – with a 5 kW generator, purchasing a 10 kW charger is pointless.

For chargers with advanced settings, the charging algorithm may extend the charging time to save battery life.

Some chargers automatically reduce charging power when the battery approaches 100%.
If you have any inquiry, please contact us freely and we will be happy to serve you.
Jezli website for purchasing electrical appliances
When we say Jeezly website, we are talking about one of the most famous Arab websites that was able, in a very short period of time, to achieve a very large demand for purchases from it by people from various parts and sectors of the Arab world.
On the Jeezly website, you will find a joint look and all the products that you may need in your home, starting with those for kitchens or bathrooms, but even those for gardens, you will find them on this wonderful site.
So, if you were lost before and did not know where to go to buy your products on the Internet, now you have the perfect solution, and all you have to do is go to the Jezli website and start choosing the products you want.
What are the features of Jeezly  ?
Since we are talking about a site that is preferred by many people around the world, there is no doubt that it is a site full of various features and characteristics. Therefore, we have decided to devote our next paragraph to pointing out the most prominent features of the Jezli site.
One of the most prominent features of the site is the proportionality of prices. On the Jeezly website, you do not have to worry about the imaginary prices of the products, as is the case with most sites that display their products on the Internet.
The price of delivering products is very reasonable and not expensive, and the site accepts delivery to various countries, without forgetting that it accepts free shipping on some products.
One of the features of the site is also the high quality of its products, as it is impossible to find a poor quality product. Rather, the Jezli website deals with the major companies, Philips, for example, and other famous brands, so you must remove from your mind the idea of ​​the poor quality of one of the products. Another advantage of the site is that it does not specialize in one type of product, but rather you will find various types of products on it, for example, electrical appliances, hand tools, mechanical devices, paints, packages for establishing apartments, and many other types.
Jeezly website also accepts what is known as the shopping cart, which makes it easy for you to filter the products you want to buy and put them in one package in order to be able to pay with the click of a single button.
Accepts multiple payment methods.

We are pleased that you visit our social media pages, where we publish exclusive offers on our website.
Our Facebook page  is here .
Our Twitter account  is here .