Correct distribution of electricity in the home
nada shaban
Correct distribution of electricity in the home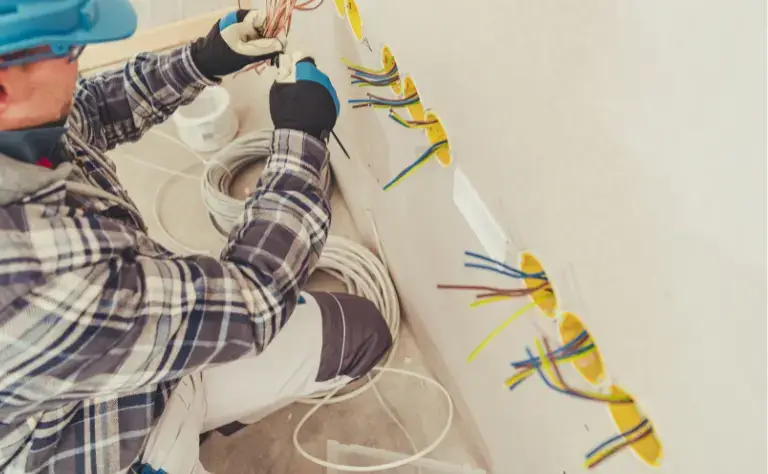 Home electricity distribution is the basic network of electrical energy within a home that makes our modern way of life possible and powers every aspect of our homes. This means that we are surrounded by many devices and technologies that all depend on one vital resource: electricity. Electricity is the invisible engine that powers lights, electronic appliances, heating and cooling systems, and much more. In this article, we will explore the basics of electrical distribution in the home, and learn how it is safely routed, controlled, and used to meet our daily needs in homes.
Principles of electricity distribution in the home
Home electrical distribution relies on a complex system of electrical wires and components designed to deliver power to every corner of your home safely and efficiently.  Here are the basic principles behind this basic process :
1. Energy source:
It all starts with the supply of electricity from the national electricity grid. This electricity is generated in power plants and then converted into alternating current ( AC ) for distribution to homes through the electricity distribution company.
2. Electrical Panel:
The electrical panel, also called the feeder box, is the central point of electricity distribution within your home. It receives electricity from  the grid  and then distributes it to the various electrical circuits in your home. The electrical panel is equipped with breakers and fuses that act as protection devices against electrical overloads.
If the panel capacity is insufficient to meet the electrical needs of the home, it may cause an overload. This can cause frequent breakdowns, spontaneous disconnections and even fire hazards due to overheating in the cables. On the other hand, an oversized board can be unnecessary.
3. Electrical circuits:
Electrical circuits are specific paths through which electricity flows through your home. They are designed to power different types of equipment, such as power outlets, light switches, and home appliances. Each circuit is protected by a circuit breaker or fuse that automatically cuts off the current in the event of an overload or short circuit.
4. Cables and Wires:
Electrical wires connect the electrical panel to electrical outlet points throughout the house. It consists of insulated conductors ( wires ) that transmit electricity from one place to another. Wiring must be installed according to safety standards to avoid risks of fire or electric shock.
5. Outlets and switches:
Outlets and switches are access points to electricity in your home. Outlets provide power to the devices you plug in, while switches control lighting and other equipment. They are connected to the corresponding electrical circuits.
6. Grounding:
To ensure safety, many home electrical systems are equipped with grounding. This involves connecting the ground wires to the ground itself, which helps divert potential spikes to the ground and avoids the risk of electrical shock.
–  By understanding these basic principles, you can better understand how electricity is distributed within a home.
Distribution of electricity in the home
– How to make a home electricity network and distribution plan?
Electricity is distributed in a home through complex wiring networks and electrical components. Each room in the house requires a specific distribution to meet its energy needs. The main elements of this distribution include sockets and electrical circuits.
Electricity distribution in the kitchen:
– How high are the electrical outlets in the kitchen?
In the kitchen, sockets are installed to supply household electrical appliances such as refrigerators, ovens, microwaves and blenders. These plugs are placed at a suitable height, generally between  25  and  45 cm  above the floor, to facilitate access while avoiding the risk of splashing water or other liquids.
Electricity distribution in rooms:
Rooms require electrical outlets to power lamps, phone chargers and other devices. Sockets are generally installed at a height of about  30 cm  above the floor, and their location varies depending on the furniture distribution and individual needs.
Electricity distribution in the bathroom:
Bathroom electrical outlets require special attention due to the risk of exposure to moisture. The distance between the sockets and the sink should be   at least 60 cm to avoid any direct contact with water. In addition, the sockets must be protected by a  30 mA automatic circuit breaker , known as a differential switch, to prevent electric shock in the event of a current leak.
Distribution of electricity and lighting in a house
Allocation of lighting within the room can be arranged taking into account the structural configuration of the ceiling. It is essential to note that lighting distribution plays an essential role in the final aesthetics of a space and therefore requires careful implementation. This includes avoiding excessive lighting fixtures while avoiding excessive dimming.
One of the most important basic parameters of the interior design and decoration of the place is the number, location and type of lighting devices present, linked to the color and texture of the room, as well as the ability to incorporate natural light. All these elements help to form and distribute the final room.
For example, the shade of light affects the overall psychological atmosphere inside the room. For example, yellow lighting prepares the body for relaxation and sleep, while white light stimulates an active and energetic disposition. These choices are influenced by your individual preferences and the overall mood you seek to create while in the room.
Distribution of electricity outside the home
When installing electrical outlets outside, such as in gardens or terraces, it is important to use outlets designed to withstand water and weather conditions. It is recommended to purchase waterproof sockets to ensure safety and sustainability. These sockets should be installed at the appropriate height, generally about  30cm  above the floor.
Electricity points and electricity distribution
-What are the points in electricity?
It is very important to calculate electricity points when distributing electricity in a home, because these electrical access points play an important role in the energy efficiency and usability of each space. Electricity points are elements in the electrical circuit connected to breakers and switches. Careful calculation of their location and number ensures that each room is equipped to meet specific power needs, while avoiding circuit overload. Electricity distribution involves routing electrical power from the electrical panel to these access points. Therefore, careful planning of electricity points ensures optimal use of electricity in the home, which contributes to providing comfort, security and energy efficiency in the residential environment.
Reducing electricity consumption
Before getting into the process of distributing electricity at home, there are many valuable tips to reduce electricity consumption and promote efficient use of energy. Here are some important recommendations to consider :
Lighting planning:




Before installing electrical cables, carefully plan the distribution of good lighting in each room.

Make sure the light points are placed in the optimal position to avoid shadow areas and increase light efficiency.

Also avoid exposed wires by installing them carefully and hiding them in appropriate channels.
Also consider choosing energy-efficient bulbs or  LED lights , which consume less electricity while providing adequate lighting.
Choose quality materials:




Choose reliable suppliers to purchase electrical materials, especially wires and cables.

High-quality materials ensure that your electrical system operates safely and efficiently, while reducing the risk of malfunctions within the home.
Insulation and ventilation:




Make sure your home is properly insulated to prevent heat or air conditioning loss.

In the summer, use fans to maintain a comfortable temperature before turning to air conditioning.
Electricity and Renewable Energy:




Consider incorporating renewable energy sources, such as solar panels, to reduce your dependence on the traditional power grid.

This not only reduces electricity consumption, but also reduces your impact on the environment.
Smart appliances:




incorporating dimmers to adjust light intensity, timers to automate turning appliances on and off, and thermostats to regulate temperature very effectively.

These devices allow the most economical use of energy.

Which reduces high electricity bills.
Energy Management Awareness:




Learn about energy management best practices and make your family aware of its importance.

Adopting energy saving behaviors on a daily basis, such as turning off unnecessary lights and unplugging chargers, can lead to significant savings in the long run.
–  By following these energy-saving steps and behaviors, you will significantly reduce your electricity consumption before power is delivered to your home, which contributes to lowering bills and reducing your environmental impact.
If you have any inquiry, please contact us freely and we will be happy to serve you.
Jezli website for purchasing electrical appliances
When we say Jeezly website, we are talking about one of the most famous Arab websites that was able, in a very short period of time, to achieve a very large demand for purchases from it by people from various parts and sectors of the Arab world.
On the Jeezly website, you will find a joint look and all the products that you may need in your home, starting with those for kitchens or bathrooms, but even those for gardens, you will find them on this wonderful site.
So, if you were lost before and did not know where to go to buy your products on the Internet, now you have the perfect solution, and all you have to do is go to the Jezli website and start choosing the products you want.
What are the features of Jeezly  ?
Since we are talking about a site that is preferred by many people around the world, there is no doubt that it is a site full of various features and characteristics. Therefore, we have decided to devote our next paragraph to pointing out the most prominent features of the Jezli site.
One of the most prominent features of the site is the proportionality of prices. On the Jeezly website, you do not have to worry about the imaginary prices of the products, as is the case with most sites that display their products on the Internet.
The price of delivering products is very reasonable and not expensive, and the site accepts delivery to various countries, without forgetting that it accepts free shipping on some products.
One of the advantages of the site is also the high quality of its products, as it is impossible to find a poor quality product. Rather, the Jezli website deals with major companies, Philips, for example, and other famous brands, so you must remove from your mind the idea of ​​the poor quality of one of the products. Another advantage of the site is that it does not specialize in one type of product, but rather you will find various types of products on it, for example, electrical appliances, hand tools, mechanical devices, paints, packages for establishing apartments, and many other types.
Jeezly website also accepts what is known as the shopping cart, which makes it easy for you to filter the products you want to buy and put them in one package in order to be able to pay with the click of a single button.
Accepts multiple payment methods.

We are pleased that you visit our social media pages, where we publish exclusive offers on our website.
Our Facebook page  is here .
Our Twitter account  is here .