Electricity hazards in the home
nada shaban
Electricity hazards in the home
Ensure the safety of yourself and your home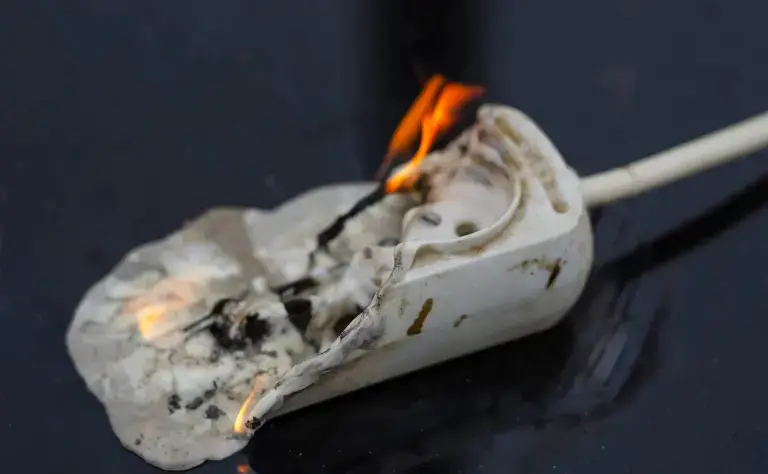 Electricity is undoubtedly one of the most revolutionary discoveries in human history. Which has dramatically changed our daily lives, allowing an unparalleled level of comfort and technological advancement. However, in the midst of this ease and convenience, we often tend to underestimate the risks that electricity can pose to our safety. Home electrical risks associated with improper use or faulty installations are very real and can have serious consequences. It is therefore essential that we are aware of these risks and take preventive measures to protect our homes and loved ones.
In this article, we will explore in detail the various accidents and risks that electricity may cause in the home. We will discuss the risks of electrocution that can occur while using electrical appliances or if improper fittings or circuit overloads fail. In addition, we will pay special attention to the risks to children, and basic measures to ensure the safety of our home environment.
The dangers of electricity in our daily lives
The dangers of electricity in our daily lives are real and can pose risks to our safety and well-being. Here are some of the most common potential electricity hazards that we may encounter in our daily lives :
Electrocution
Electrocution is one of the most dangerous dangers associated with electricity. It occurs when electrical current passes through the human body, which can cause serious injury, burns, and even death. Direct contact with faulty electrical outlets, exposed wires, or poorly maintained electrical appliances increases the risk of electrocution.
Electrical fires
Electrical fires are another serious threat. They can be caused by a short circuit, circuit overloads, faulty electrical appliances or dilapidated electrical installations. These fires can spread quickly and cause extensive property damage, as well as endangering the lives of the home's occupants.
Risk of electric shock
Electrical shock hazards in the home can arise in several ways. 4  of the most common sources of electrocution accidents are:
a.

Direct connection to the electrical current
Electrical sockets can become damaged over time, or have cracks or exposed sections of wire, which increases the risk of electrical shock.

Exposed wires in outlets can cause arcing or shorting when they come into contact with conductive material, posing a potential danger to anyone who touches the outlet.

In older homes, the electrical installations may be outdated and do not meet the required safety standards.
B.

Use of electrical appliances
Using damaged electrical appliances, such as frayed power cords or appliances with bare wires, greatly increases the risk of electrical shock.

Using electrical appliances near water, such as in the bathroom, can cause electric shock.

Handling electrical appliances with wet hands or while standing on a damp surface can facilitate the passage of current through the body and cause electrocution.
C.

Overloading of electrical circuits
Operating more than one electrical device in a single socket or connecting too many devices to a single electrical circuit can result in overloading, causing sparks, arcing, and fire hazards, and can also lead to immediate damage to electrical equipment connected to the circuit. .
Dr..

Short circuits and bare wires
Short circuits represent a major threat to home electrical safety. It occurs when two electrical wires of different polarities are in direct contact with each other. This causes an abnormally high current flow that can lead to sparks, arcing, and even fires. This can be caused by bare wires, damaged wires, or improper electrical installation. Requires immediate action to avoid any risk of fire or electrocution.
The dangers of electricity to children at home
Children, due to their natural curiosity, are particularly vulnerable to the dangers and dangers of electricity in the home. They can insert objects into electrical outlets or touch unattended electrical appliances, which may expose them to the risk of electrocution. Example:
Electrical outlets
Accessible electrical outlets are a major electrical hazard for children. Young children often tend to be curious and explore their environment by touching everything around them. When electrical outlets are easily accessible and unprotected, children can insert objects into the outlet openings, which can result in electrical shock. Even if they insert their fingers, it could result in serious electrocution. It is essential to take steps to secure electrical outlets using outlet covers or protective covers to prevent direct contact with electrical wires.
Electric toys
Incompatible or poorly designed electrical toys can also pose a danger to children. Poor quality or poorly made toys may contain bare wires or poorly insulated parts, which increases the risk of electric shock when a child plays with the toy. Additionally, some electric toys may require batteries that can leak and damage the toy, exposing children to dangerous chemicals. To avoid these risks, it is important to choose high-quality electric toys that comply with safety standards, and carefully monitor their condition and use.
Awareness of the dangers of electricity at home
Educating children and all family members about the disadvantages and dangers of electricity in the home is essential to prevent electrical accidents and ensure a safe home environment. Below are some behaviors and strategies to effectively raise awareness and promote a culture of electrical safety within the home :
1 –  Take the time to teach children the basics of electrical safety in an age-appropriate manner. Explain the harms associated with electricity, such as electrocution and fire, and stress the importance of not touching electrical outlets, cords, or electrical appliances without adult permission and supervision.
2- Teach children how to check electrical wires for any damage or bare wires . Also involve them in activities such as testing smoke and carbon monoxide detectors or creating a fire escape plan.
3 –  There are educational resources, books and videos suitable for children on the Internet to educate children about the dangers of electricity in a fun and educational way. Use these resources to reinforce the electrical safety lessons you teach them.
4 –  Place visual electrical safety reminders in key areas of the home, such as electrical outlets and appliances. Use stickers with clear messages to remind children to be careful.
5- From time to time, organize family awareness sessions on electrical safety . Discuss risks, preventative measures, and emergency procedures in the event of an electrical accident. Encourage questions and discussion so everyone in the family understands the importance of electrical safety.
6 –  When identifying electrical problems at home, involve children in the problem-solving process. Tell them how to report problems and who to ask for help with repairs.
How to prevent the dangers of household electricity
To prevent the dangers of electricity at home, you must follow several important tips and instructions, as follows:
– How does a person warn of the dangers of electricity?
Use outlet covers to avoid children touching and accessing them.

Avoid using electrical appliances near water or with wet hands.

Check electrical cables regularly for damage or bare wires to avoid an electrical short.

Have the electrical connections checked by a specialist periodically.

Unplug unused devices to prevent circuit overload.

Do not overload extension cords and use compatible adapters.

Turn off electrical appliances before unplugging them to avoid sparks.

Avoid using extension cords under carpets or furniture.

It is necessary to install temperature, smoke and gas sensors.

Do not use metal objects to remove objects stuck in sockets.

Unplug all electrical appliances at night or when leaving the house for an extended period.

Awareness guidance for children and adults about the dangers of electrocution and electrical fire.
The article  The Dangers of Electricity in the Home  highlights the real dangers of using electricity in our daily lives. Despite the many benefits that electricity provides, it can cause serious accidents such as burns and electrocution. Direct contact with faulty electrical outlets, careless handling of electrical appliances, short circuits, bare wires and old electrical installations are potential risk factors. It is possible to prevent these dangers by adopting simple preventive measures. Vigilance, education, and compliance with safety standards are the keys to safely enjoying the benefits of electricity in our homes.
If you have any inquiry, please contact us freely and we will be happy to serve you.
Jezli website for purchasing electrical appliances
When we say Jeezly website, we are talking about one of the most famous Arab websites that was able, in a very short period of time, to achieve a very large demand for purchases from it by people from various parts and sectors of the Arab world.
On the Jeezly website, you will find a joint look and all the products that you may need in your home, starting with those for kitchens or bathrooms, but even those for gardens, you will find them on this wonderful site.
So, if you were lost before and did not know where to go to buy your products on the Internet, now you have the perfect solution, and all you have to do is go to the Jezli website and start choosing the products you want.
What are the features of Jeezly  ?
Since we are talking about a site that is preferred by many people around the world, there is no doubt that it is a site full of various features and characteristics. Therefore, we have decided to devote our next paragraph to pointing out the most prominent features of the Jezli site.
One of the most prominent features of the site is the proportionality of prices. On the Jeezly website, you do not have to worry about the imaginary prices of the products, as is the case with most sites that display their products on the Internet.
The price of delivering products is very reasonable and not expensive, and the site accepts delivery to various countries, without forgetting that it accepts free shipping on some products.
One of the features of the site is also the high quality of its products, as it is impossible to find a poor quality product. Rather, the Jezli website deals with the major companies, Philips, for example, and other famous brands, so you must remove from your mind the idea of ​​the poor quality of one of the products. Another advantage of the site is that it does not specialize in one type of product, but rather you will find various types of products on it, for example, electrical appliances, hand tools, mechanical devices, paints, packages for establishing apartments, and many other types.
Jeezly website also accepts what is known as the shopping cart, which makes it easy for you to filter the products you want to buy and put them in one package in order to be able to pay with the click of a single button.
Accepts multiple payment methods.

We are pleased that you visit our social media pages, where we publish exclusive offers on our website.
Our Facebook page  is here .
Our Twitter account  is here .