How do I maintain the drill blades?
nada shaban
How do I maintain the drill blades?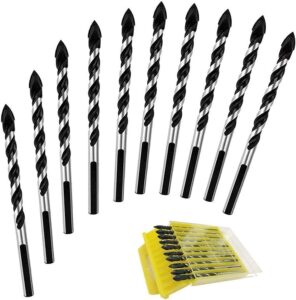 And since drill bits are cutting tools, it's important to take care of them and trim them regularly, especially if you're doing a lot of home projects or large construction work. The use of poor quality drill bits can increase the time and effort required to complete the work, and their use may damage the materials you are working with, or may cause injuries. So, keeping a special drill bit sharpener for home use is a good investment in maintaining your tools.
Most drill bit sets come in a special case with compartments to store each piece in its designated place, which keeps them from getting scratched or dinged and also provides great tool organization. On the inside of the special enclosure, each spot is marked for unit size and type.



How do I maintain the drill blades?
Leave the drill bit to cool down after you are done.

Wipe the drill and bit with a clean, dry towel.

Use a clean, dry toothbrush to clean off any shavings or other debris stuck to the feather.

Lightly oil the tool with a paper towel.

Let the oil sit on the tool for a few minutes and then wipe off the excess oil with a new paper towel.

Inspect the drill bits carefully and remove those that are severely damaged in order to replace them with new ones.
Keep drill bits in the special box in a place away from heat and moisture.
If you have any inquiry, please contact us freely and we will be happy to serve you.
Jezli website for purchasing electrical appliances
When we say Jazli website, we are talking about one of the most famous Arab websites, which was able in a very short period of time to achieve a very high demand for purchases from it by people from different parts and sectors of the Arab world.
On the Jazli website, you will find Joint Lock and all the products that you may need in your home, starting with those for kitchens or bathrooms, but even those for gardens. You will find them in this wonderful site
So, if you were lost before and did not know where to go to buy your products on the Internet, now you have the perfect solution, and all you have to do is go to the Jezli website and start choosing the products you want.
What are the features of Jeezly  ?
Since we are talking about a site that is preferred by many people around the world, there is no doubt that it is a site full of various features and characteristics, and for this we have decided to dedicate our next paragraph in order to indicate the most prominent features of the Jazli site.
One of the most prominent features of the site is the proportionality of prices. On the Jeezly website, you do not have to worry about the imaginary prices of the products, as is the case with most sites that display their products on the Internet.
The price of delivering products is very reasonable and not expensive, and the site accepts delivery to various countries, without forgetting that it accepts free shipping on some products.
One of the advantages of the site is also the high quality of its products, as it is impossible to find a poor quality product. Rather, the Jezli website deals with major companies, Philips, for example, and other famous brands, so you must remove from your mind the idea of ​​the poor quality of one of the products. Another advantage of the site is that it does not specialize in one type of product, but rather you will find various types of products on it, for example, electrical appliances, hand tools, mechanical devices, paints, packages for establishing apartments, and many other types.
Jeezly website also accepts what is known as the shopping cart, which makes it easy for you to filter the products you want to buy and put them in one package in order to be able to pay with the click of a single button.
Multiple payment methods are accepted.

We are pleased that you visit our social media pages, where we publish exclusive offers on our website.
Our Facebook page  is here .
Our Twitter account  here .