How to choose interior doors
nada shaban
How to choose interior doors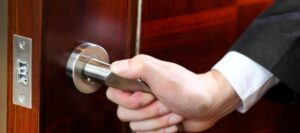 Choosing the doors for the house is always a difficult decision, because we know that it is one of the few items that we will have to maintain for a longer period, either because of the difficulty in removing the structures or because of the significant expenses involved. But there are more things that are affected in addition to aesthetics, such as space and the entry of light into the rooms. Below, we give you some  tips  that you can consider when  choosing interior doors for your home to make the best possible choice.
Home design and decorations
Before you visit a carpenter, consider what works best for you based on  the overall design of your home. For example, in a minimalist or contemporary design, it would be impossible to think of the possibility of putting doors with moldings, more suitable for classic or rustic styles, and we would have to put perfectly smooth doors, on the contrary.
Of course, both classic and modern can be blind (without small windows or glass) or glazed, because in this matter the design is as important as our taste or the light that we want to enter the room. In dimly lit rooms we are very interested in placing doors with small windows or glass to take advantage of the light from the next room.
Interior door materials
In terms of materials, for the doors that separate different indoor rooms, the most common is to put solid wood doors, veneered doors (with a solid appearance but made of wood-veneered plank) or hollow. The latter is of lower quality and duration.
Whatever the case, wood is still   a huge favorite thanks to the fact that it's timeless. It is advisable to use high-quality wood in natural colors; As for the treatment, it depends on your taste and style to keep them lightly treated so that their natural imperfections can be seen, or to buy highly polished and treated doors.
Walnut, cherry, cedar, beech and oak are woods that can be adapted to almost all types of spaces and can be combined with many other shades.
Types of interior doors
Another important aspect to consider when choosing interior doors is whether you prefer them to be hinged or sliding:
Hinged doors:

 These are the doors that open towards the interior of the room, thus taking up more space.

They are available with one or two sheets;

The latter is more common in living rooms and dining rooms.

Likewise, they can be, according to your preferences and tastes, matrix, glass or glass.

Sliding doors:

 These doors are ideal for small rooms where you want to save space.

They are very common in small rooms, bathrooms and kitchens.

They are available over the top, that is, they slide over the wall, or built-in, which, in this case, runs inside the wall and is needed for work.
You will always have the last word, but be careful with innovation, because sometimes it can be expensive: what is trendy now can be expensive in the long run.
If you have any questions, please contact us freely and we will be happy to serve you.
Jahzli website to buy electronics
When we say Jazli website, we are talking about one of the most famous Arab websites, which was able in a very short period of time to achieve a very high demand for purchases from it by people from different parts and sectors of the Arab world.
On the Jazli website, you will find Joint Lock and all the products that you may need in your home, starting with those for kitchens or bathrooms, but even those for gardens. You will find them in this wonderful site
So, if you were lost before and you don't know where to go in order to buy your products on the Internet, now you have the perfect solution, and you only have to go to the Jazli website and start choosing the products you want.
What are the features of Jazli  ?
Since we are talking about a site that is preferred by many people around the world, there is no doubt that it is a site full of various features and characteristics, and for this we have decided to dedicate our next paragraph in order to indicate the most prominent features of the Jazli site.
Among the most prominent features of the site, we find that there is proportional prices. On the Jazli website, you do not have to worry about the imaginary prices of products, as is the case with most sites that display their products on the Internet.
The price of product delivery is very reasonable and not expensive, just as the site accepts delivery to various countries, without forgetting that it accepts free shipping on some products.
Among the advantages of the site, we also find that there is the high quality of its products, as it is impossible to find a poor-quality product. Rather, the Jahzli website deals with major companies, Philips, for example, and other famous brands, so you have to remove from your mind the idea of ​​poor quality of one of the products. Also, one of the advantages of the site is that it does not specialize in one type of product, but rather you will find various types of products on it, for example, electrical appliances, hand tools, mechanical devices, paints, packages for establishing apartments and many other types.
Jahzli also accepts what is known as the shopping cart, which makes it easier for you to filter the products you want to buy and put them in one package in order to be able to pay with the click of a single button.
Multiple payment methods are accepted.

We are pleased to have you visit our pages on social networking sites, where we publish exclusive offers on our website.
Our Facebook page  here .
Our Twitter account  here .