How to detect water leaks in the house?
nada shaban
How to detect water leaks in the house?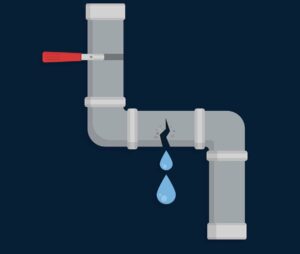 The network of pipes that distributes water in our home can crack or break. This often occurs in items that connect pipes such as valves, collars, taps, and suction cups.
Faucet wrenches or any other item connected to the water system can also be damaged. In addition, it is possible that the source  of water leakage in the house  is from the internal pipes.
Some of the causes of these losses are use, corrosion, poor installation, improper welding (there are different types of welding), and high water pressure. How do you spot these leaks and what do you do to fix the leaking problems? At Jafar Shop we teach you the whole process.
Step by step water leak detection
When there is  a water leak in the house,  it is recommended to act immediately, because water is a natural resource that we must take care of. On the other hand, collateral damage from leaks and drips can greatly increase moisture problems in walls.
We will explain the steps that must be followed to discover the origin of the leak and solve this problem:
Check all water taps in the house
The first step in detecting  a water leak in the home  is to check every faucet in the kitchen, bathroom, laundry room, and outdoors  . Basically, you have to check that all switches are closed properly and to rule out leaks.
Look for leaks in the toilet
The bathroom, especially the toilet and shower, is an area of ​​the home that  often has water leaks  . It can come from the tank, from the base, or from a crack in the water outlet.
Here you will have to check that the entire filling and emptying mechanism is in good condition and that it is also working properly. Check the tank, bowl and tube for cracks.
Check the water tanks
Water tanks, whether storage or hot water, are another focus when it comes to detecting leaks. In the case of storage tanks, you should inspect the floor and listen carefully for a hissing sound indicating pressure release.
On the other hand, if you want to check the hot water tanks, you should go directly to the pressure relief valves, as these are the main cause of water loss.
What if you still can't find the source of the leak after checking these points? So, it is most likely another type of leak, so now we are going to give you some   practical  tips to spot invisible water leaks:
Ignore if there is excess water and check the home meter.

This is a practical way 

to detect water leaks without breaking

 the walls.

Look for signs of moisture on the walls or floor: bulges, spots, and soft spots.

Check out the exterior of the house such as the gardens, patios, and pool.

Follow these tips and you will know 

how to spot invisible water leaks.
waterproofing solutions
There is a quick solution to all  water leaks in the house. If you have skills with plumbing tools, you can fix some of these defects yourself. However, in some cases, you will have to seek the services of an expert person.
Change the faucets
If faucets are the cause of your water leaks, they aren't worth the savings. Better to take the opportunity to change it once, if it is within your means. It's time to renew it!
Repair or change the toilet
If your toilet's fill and flush system fails, you'll need to replace it with a new one. If you find a small crack in the tank, you can use special adhesives, but if the problem is more serious, it is better to replace it with a new one.
Contact an expert
When  finding water leaks  in cabinets or discovering moisture problems in walls, the best solution is to contact an experienced person who has the knowledge and tools to solve more complex problems.
FAQs  
In this article, we saw  how to detect invisible and visible water leaks  and what to do  to detect water leaks without breaking the walls or floors  of your home. However, these are not the only questions that need to be answered, as are doubts such as:
Can we prevent water leakage?
The final answer is yes. We achieve this by installing high quality piping and piping filters; By not throwing grease, leftovers, or other items down the drain and doing regular maintenance, you can prevent future problems.
What tools should I have at home to repair pipes?
For basic repairs, use a wrench, leak tape, and a spring with a plunger on hand.
If you have any questions, please contact us freely and we will be happy to serve you.
Jahzli website to buy electronics
When we say Jazli website, we are talking about one of the most famous Arab websites, which was able in a very short period of time to achieve a very high demand for purchases from it by people from different parts and sectors of the Arab world.
On the Jazli website, you will find Joint Lock and all the products that you may need in your home, starting with those for kitchens or bathrooms, but even those for gardens. You will find them in this wonderful site
So, if you were lost before and you don't know where to go in order to buy your products on the Internet, now you have the perfect solution, and you only have to go to the Jazli website and start choosing the products you want.
What are the features of Jazli  ?
Since we are talking about a site that is preferred by many people around the world, there is no doubt that it is a site full of various features and characteristics, and for this we have decided to dedicate our next paragraph in order to indicate the most prominent features of the Jazli site.
Among the most prominent features of the site, we find that there is proportional prices. On the Jazli website, you do not have to worry about the imaginary prices of products, as is the case with most sites that display their products on the Internet.
The price of product delivery is very reasonable and not expensive, just as the site accepts delivery to various countries, without forgetting that it accepts free shipping on some products.
Among the advantages of the site, we also find that there is the high quality of its products, as it is impossible to find a poor-quality product. Rather, the Jahzli website deals with major companies, Philips, for example, and other famous brands, so you have to remove from your mind the idea of ​​poor quality of one of the products. Also, one of the advantages of the site is that it does not specialize in one type of product, but rather you will find various types of products on it, for example, electrical appliances, hand tools, mechanical devices, paints, packages for establishing apartments and many other types.
Jahzli also accepts what is known as the shopping cart, which makes it easier for you to filter the products you want to buy and put them in one package in order to be able to pay with the click of a single button.
Multiple payment methods are accepted.

We are pleased to have you visit our pages on social networking sites, where we publish exclusive offers on our website.
Our Facebook page  here .
Our Twitter account  here .