Wind energy and how to use it to generate electricity 1
bedewy
Wind energy and how to use it to generate electricity
A search for wind energy. Wind energy is classified as one of the types of renewable energy sources because it relies on the wind source instead of using fossil fuel sources, oil and natural gas. These sources are harmful to the environment because of the toxic gases they produce when burned, in addition to being available only in limited areas. In the world.
Where the importance of using wind energy in European countries and America came to reduce dependence on traditional energy sources and reduce environmental pollution and costs.
What is energy
Energy means (English: energy) in the science of physics the ability to do something by converting energy from one form to another to produce different forms of energy such as: converting energy into electrical, thermal, radiation, nuclear or chemical energy, whose work depends on kinetic energy or energy lurking.
Definition of wind power
Wind energy is defined as a source of transformable energy, which results from exploiting the movement of wind and converting it into another form of energy such as electricity energy, where its work relies on the movement resulting from the wind in generating electrical energy by moving wind turbines. Mechanical energy, which in turn is converted into electrical energy. Wind energy is one of the renewable energy sources, which is used as an alternative source to traditional energy sources.
---
uses of wind energy
Wind energy has been used since ancient times at the level of different civilizations, as the ancient Egyptians used this energy to run their boats on the Nile River in Egypt, and the Muslims used it to grind various grains, while the Chinese exploited it to pump groundwater in particular.
As for the Arab countries, there are no development studies on increasing reliance on this energy to generate electricity, and the weakness of cooperation and coordination between countries has led to weak reliance on this energy and other renewable and non-polluting energy sources.
The idea of ​​wind energy to generate electricity
The idea of ​​​​its work depends on the kinetic energy of the wind through the rotation of the blades that are installed on the turbine, which is installed on a hub that is based on the main rotating shaft connected to a gear box to raise the rotational speed, as the movement is transmitted to the fast rotating shaft, and its rotation cuts off a magnetic field inside the generator, which results in the generation of electricity, and thus During which we can provide electricity in all public and private places.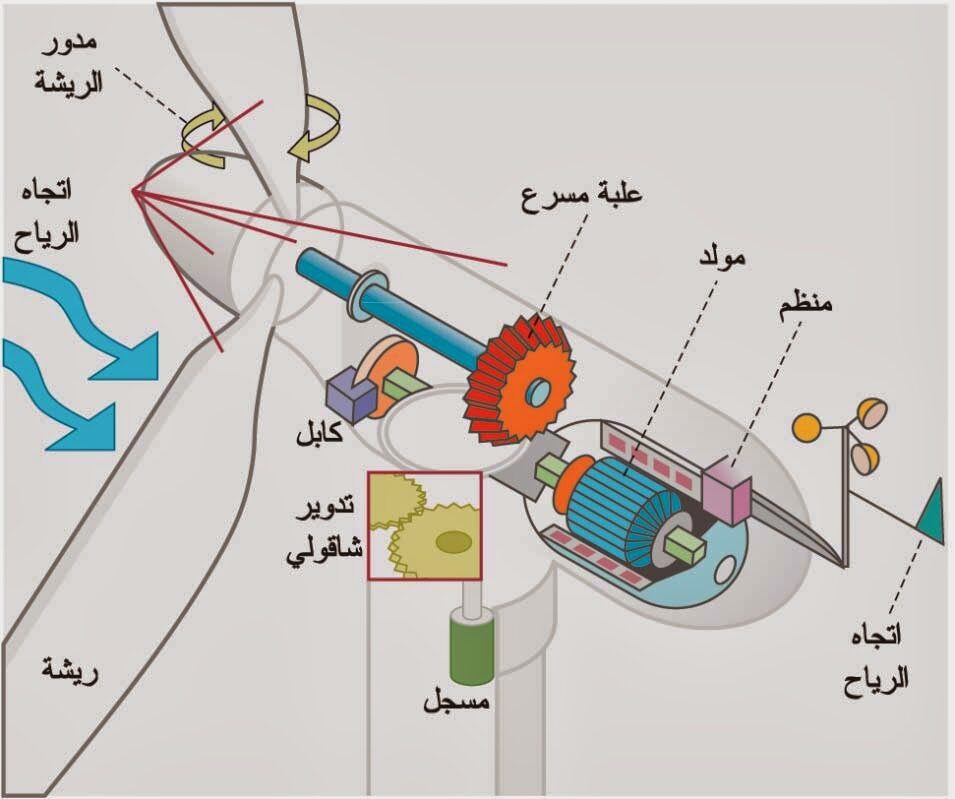 Advantages of wind energy
Its low cost compared to other traditional energy sources.

Contribute to providing job opportunities, raising the economy and reducing oil consumption.

You don't need equipment to drill like fossil fuel sources.

Sustainable and inexhaustible energy.

It does not need any kind of raw fuel sources during its operation like thermal stations.

Wind energy is a clean and non-polluting resource.

Contribute to reducing carbon dioxide emissions.

It can be used in many different applications.
Disadvantages of wind energy
You need very large spaces.

You need a place with high wind speed and relatively moderate.

Makes noise throughout the day.

Winds are not always available to move the mills but are seasonal.
How do wind turbines work?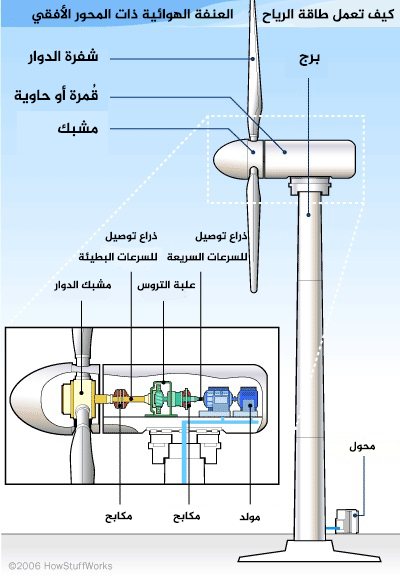 How do wind turbines work? Wind energy is one of the ways to generate electricity, and it is classified as an environmentally friendly renewable energy resource.
In this article, we will discuss how wind turbines work, and what is the best place to place the field?
How do wind turbines work?
A wind turbine contains rotating blades that are mounted on a shaft and a generator that converts the kinetic energy of the wind into electrical energy.
When the wind passes over the blades, it creates a dynamic air impulse that causes the blades to rotate. Thus, the generator operates, which produces electrical energy. These turbines are equipped with a device that controls the rotation of the blades to regulate their rotation rates and stop their movement if necessary.
Share this post
Back to Blog
---
ليست اسعار منتجات هيونداي الكتريك هيونداي الكتريك. منذ عام 1977 ، عملت هيونداي الكتريك كشريك ملتزم لعملائها في مسار نموهم في قطاع... read more
---