How can buyers balance price and quality of wall switches and sockets?
nada shaban
How can buyers balance price and quality of wall switches and sockets?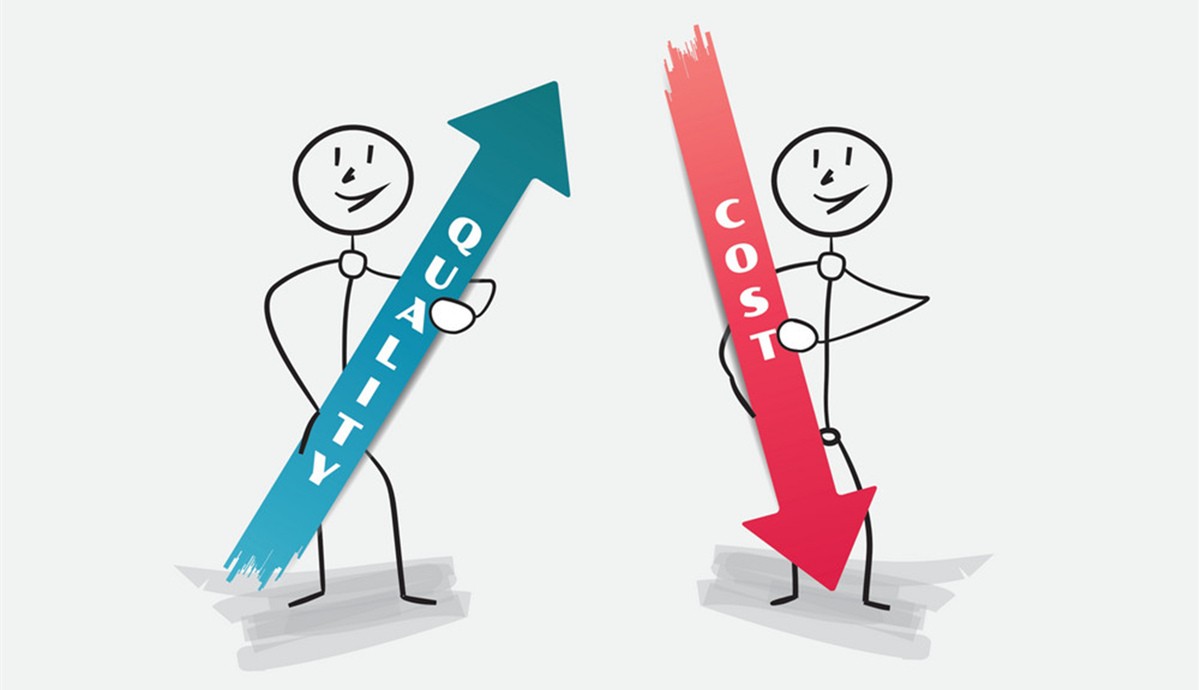 How can buyers balance price and quality of wall switches and sockets?
In the era of big data, even in cross-border trade, product transaction prices are very transparent. Buyers can easily access and compare prices of many manufacturers from multiple sources. But even for products with low added value, low costs and high price transparency, such as switches and wall sockets, buyers often receive quotations that vary greatly from manufacturer to manufacturer. But please don't rush to choose with the mentality of price first; The price of a product is determined by many aspects such as raw materials, workmanship and quality. Between price and quality, you need to strike a balance according to customer needs at the next level, brand positioning and product positioning.
I. The relationship between price and quality
Raw materials
It cannot be denied that the price of raw materials is always one of the main factors affecting the price of the final product. From the point of view of the various components of the wall switches. In the case of the plastic chain, for example, the main components are the plate, intermediate key unit, button and back base. The main factors affecting the price are the material of the plate, the material of the back base and the brass parts of the socket inside the back base.
All plastic series switchboards and wall sockets are made of plastic, but the plastic can be PC, PP or ABS, and there are also new and used materials. Brief summary as follows.
PC and PP materials have qualified flame retardant effect.

The hardness of PC material is better than PP material with high temperature resistance, but the price is slightly higher.

ABS is cheaper but has poorer impact resistance and a shorter lifespan.

ABS with flame retardant effect is more expensive than PC material.

The new material has a high glossy surface and is durable, while the old material is cheaper but has a yellowish surface and breaks easily.
The second is the back of the base. For most key chains and plastic wall plugs, the back base will use the same plastic as the plate, because the plastic is affordable and available. However, with the improvement of technology, some manufacturers have begun to use tincture as the primary raw material for plastics. This is because the plastic is more resistant to fire, pressure and corrosion than plastic. This is one of the reasons why you may get higher quotes from some manufacturers.
Another major component that can affect the price is the internal brass parts of the socket. Many manufacturers offering cheaper prices use iron plated brass inside the socket. It goes without saying that the connection, the life of the plug, and the integrity of the socket will be compromised. There are also some manufacturers that use all copper but reduce the thickness of the copper parts, which again saves costs but reduces product quality.
2. Manufacturing process
The manufacturing process of wall switches and sockets has already matured, so under market pressure, the price has been pressed and pressed again and again. Many manufacturers want more profit margins without reducing quality, so they can only improve their own production technology. There is no doubt that there are manufacturers who are able to provide high-quality products with competitive prices, based on their strong development capabilities and investment of technical resources, paying large costs first and keeping revenue later. But in general, importers are contacted with small and medium-sized manufacturers, whose production technology, product quality, and price are directly proportional to each other.
There are also some manufacturers that invest more resources in developing new products. Whether it is design upgrades or component builds, the initial investment of resources is required and the offered price is naturally higher than that of conventional models.
3. Place of manufacture
As buyers know, in the wall switch and socket industry, the main manufacturers in China are concentrated in Wenzhou (Zhejiang), Hangzhou (Zhejiang) and Guangzhou (Guangdong). Over the years, these three regions have developed their own characteristics. When comparing offerings from these three regions for the same model, one can inevitably find that Wenzhou manufacturers offer the lowest prices, while Hangzhou and Guangzhou are on the higher side. The reason most Wenzhou manufacturers have a clear price advantage is because there is a difference in materials, processes, and quality control for their products.
II.

Balance between relationships and methods of choice
1. Sales model
Many importers from China or other countries not only buy wall switches and sockets sell their goods in the local market themselves, but many also work as project contractors, wholesalers, middlemen, brand stores, etc.
Since wall switches and sockets are an everyday household electrical requirement, some real estate developers will outsource these products exclusively to contractors or brokers. As a contractor, if you are successful in bidding for a similar project, you need to give the developer a certain level of assurance as to quality, so your choice of bid is more in favor of quality. However, there are certain advantages in terms of quantity, so it is possible to guarantee the advantages of price and quality requirements.
Brand shop wall switch and socket buyers pay more attention to quality. This is because brand stores revolve around brand reputation, based on brand maintenance, the seller will give consumers a special warranty commitment. If there are batch quality problems, not only will the replacement and repair cost a lot of money and manpower, but also the brand reputation will be damaged. The worst case is that dangerous situations will occur, and the brand reputation will decline sharply.
In order to ensure the circulation of goods and avoid inventory pressure, a wholesaler with a wide range of products should better choose the classic style, which has low quality differences, high market acceptance, and preferential prices, due to the high production competition between manufacturers. In addition, switches and wall sockets are wired devices that have many varieties. In addition to switches, sockets and blank panels, which are more common items, it is generally not recommended that wholesalers purchase a large number of TV interfaces, telephone interfaces, fan switches and other specialized types. The market demand is low and it is not easy to sell in a short period of time.
How can buyers weigh the price and quality of wall switches and sockets?
2. Business positioning
More than 60% of importers choose to use their own brands, which we call the OEM model. The buyer adds some modification points to the existing factory product shape or standard packaging and uses its own brand name for the processing method, known as OEM. Buyers who use this mode should consider their brand positioning when comparing offers.
If your brand positioning is to take advantage of lower prices, you need to eliminate quality to some extent when choosing, such as reducing the thickness of brass parts or using poor quality plastics.
If your brand is positioned in the middle range, with the advantage of value for money, you can choose something more classic in style, with medium materials that meet the certification requirements, so that the price is also at an average level. And if you have quantity advantage, you can also get lower price than manufacturers.
In addition, if your brand is at the top of the market, product quality is not the only factor to consider, but the uniqueness of style, workmanship details, user-friendly design, the way it is packaged, etc. They all affect the price.
3. Added product value
Wall switches and sockets themselves are relatively low value-added products, with mature technology, little sense of design, slow shape updates, and high market transparency.
The added value of wall switches and sockets refers to certification standards and market entry requirements. Since these products are used as household essentials, safety is a key feature and many markets have high entry requirements. For example, with the new SQM and RoHS requirements in Saudi Arabia, manufacturers who can generally meet these necessary certifications will have higher prices for their products but are assured of quality requirements and enter the market.
The above manufacturing process can also be considered as value added for wall sockets. After all, wall plugs are relatively uniform, and it is generally worthwhile for manufacturers who can invest in molding to develop new models to try out some of the more expensive models. After all, for most markets, new products are business opportunities.
How can buyers weigh the price and quality of wall switches and sockets?
If you have any questions, please contact us freely and we will be happy to serve you.
Jahzli website to buy electronics
When we say Jazli website, we are talking about one of the most famous Arab websites, which was able in a very short period of time to achieve a very high demand for purchases from it by people from different parts and sectors of the Arab world.
On the Jazli website, you will find Joint Lock and all the products that you may need in your home, starting with those for kitchens or bathrooms, but even those for gardens. You will find them in this wonderful site
So, if you were lost before and you don't know where to go in order to buy your products on the Internet, now you have the perfect solution, and you only have to go to the Jazli website and start choosing the products you want.
What are the features of Jazli  ?
Since we are talking about a site that is preferred by many people around the world, there is no doubt that it is a site full of various features and characteristics, and for this we have decided to dedicate our next paragraph in order to indicate the most prominent features of the Jazli site.
Among the most prominent features of the site, we find that there is proportional prices. On the Jazli website, you do not have to worry about the imaginary prices of products, as is the case with most sites that display their products on the Internet.
The price of product delivery is very reasonable and not expensive, just as the site accepts delivery to various countries, without forgetting that it accepts free shipping on some products.
Among the advantages of the site, we also find that there is the high quality of its products, as it is impossible to find a poor-quality product. Rather, the Jahzli website deals with major companies, Philips, for example, and other famous brands, so you have to remove from your mind the idea of ​​poor quality of one of the products. Also, one of the advantages of the site is that it does not specialize in one type of product, but rather you will find various types of products on it, for example, electrical appliances, hand tools, mechanical devices, paints, packages for establishing apartments and many other types.
Jahzli also accepts what is known as the shopping cart, which makes it easier for you to filter the products you want to buy and put them in one package in order to be able to pay with the click of a single button.
Multiple payment methods are accepted.

We are pleased to have you visit our pages on social networking sites, where we publish exclusive offers on our website.
Our Facebook page  here .
Our Twitter account  here .